We are proud to have been recognized as a Google Trusted Partner
About Tracon Google tours
We have been fortunate to work with many fine local businesses and are proud to have been recognized as a Google Trusted partner.
We are a local business and we support our Connecticut community. We believe better marketing is a key to local businesses continuing to thrive in a big-box-national-chain world.
We offer a full range of local marketing services dedicated to the success of local businesses. For a complete listing please visit our website tracondigital.com.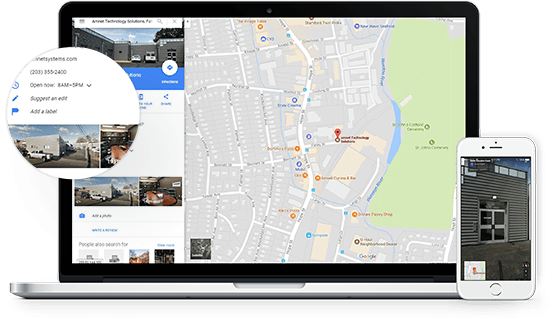 How Will Google Street View Virtual Tour Benefit Your Business?

Hire your trusted tracon Digital pro to boost your Visibility
Choosing the right restaurant, cafe or hotel is often tough. Build trust with a high-quality virtual tour that lets people experience your location before they arrive. These immersive, virtual experiences inspire greater confidence among prospective guests and patrons. We can help you more easily create and publish your virtual tour.
Google's virtual tours double the likelihood that potential clients will be interested in your business listing. Local businesses throughout Fairfield county can receive this sought-after service from Tracon Digital, a Google Trusted Street View photographer. Google is the go to resource for local business searches–Let Tracon Digital get you to the top of that list.
Are you ready to let the world inside?
For a free consultation or to getting a google business tour for your business give us a call at 203-569-2016 or email us at info@tracondigital.com